A lot has been happening over the Google Analytics 4 especially after Google announced the sunsetting of Universal Analytics. It is a piece of big news for marketers as well as publishers. To enlighten our publisher partners on the same, we have collected the most common questions regarding ga4 google analytics. This information will help publishers to understand Google Analytics 4 a little better. Let's begin!
1. What is Google Analytics 4?
We have already written a detailed blog on this earlier. You can read it here.
2. Where can I find the bounce rate in GA4?
Google did not include the bounce rate metric in the initial version of GA4 but in July'22, Google introduced it. As described by Google, bounce rate is the percentage of sessions that were not engaged. For instance, if a user visits your website for a few seconds, and then leave, it will be counted as a bounce session. You can use reports and explorations to see this metric. You can always customise the Screens and Pages report to include this metric.
3. How GA4 is different?
The major difference between GA4 and Universal Analytics (UA) lies in the type of tracking. The latest GA4 can track the analytics of both mobile applications and websites, while the UA can only track website analytics.
Also, GA4 is event-based and not session-based. The idea of a session will gradually disappear because event categories, actions and labels will now be event parameters.
4. Is Google Analytics 4 free?
Just like Universal Analytics, GA4 is a free property. There are no costs associated with using GA4.
5. Where can I find the landing page report in GA4?
The landing page metric is not available in GA4. However, you can check the number of 'session_start' events for each page. You can do this in the 'Pages and Screens' report by selecting the 'session_start' event from the drop-down menu by either creating a custom report for it or the Event count column.
6. Can I use both GA4 and Universal Analytics together?
Yes, you can do it. Publishers should continue using Universal Analytics while developing a thorough understanding of GA4. Once you have gathered all the data, you can go for complete migration.
7. Where should I find 'Time on Page' in Google Analytics 4?
This metric does not exist in the latest GA4, but its replacement is there with the name of 'average engagement time'. You can quickly find it in the 'Pages and Screens' report in google analytics 4 amp. The 'time on page' metric wasn't accurate as the calculation wasn't done for all pages.
8. How do I setup content grouping in Google Analytics 4?
You can set up content grouping through Google Tag Manager. Go to your Google Analytics 4 config tag, under Fields to Set. Now add a row with Field Name 'content_group'. You can create a regex table with dimensions where you develop a set of rules, which is similar to creating a content group for UA.
Preview and publish, and you will be able to see the data under Content Grouping in your GA4 property. Using the page path to create your regex, the lookup table should look like the below image: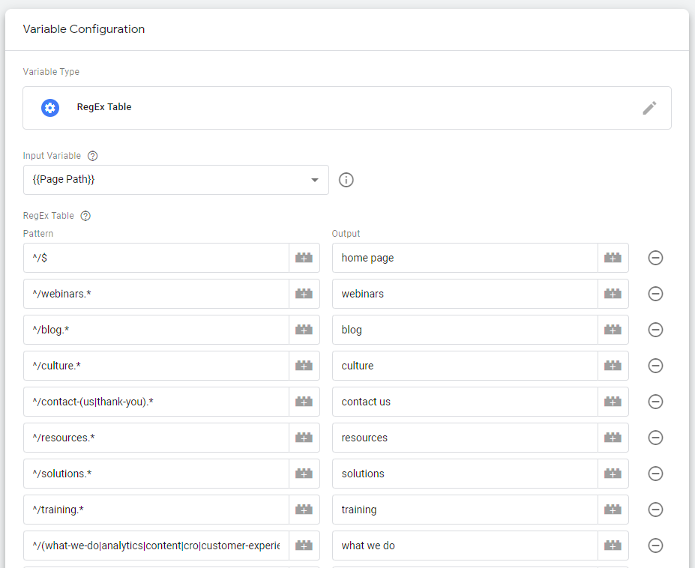 9. How can I export data from GA4?

Click on the 'Share this Report' tab located in the top right corner of the window, then select 'Download File'. You will get the option to download a CSV or PDF. You cannot access these files in Google sheets. Hopefully, this feature will be available in future versions.
On the positive side, a CSV will export all rows, not just the ones you see in the table.
10. How should I connect Google Search Console to GA4?

There is no direct way to do it, but you can combine data from GA4 and Google Search Console in Google Data Studio, using the 'Blending data sources' functionality, combining the two data sets over the page dimension. Alternatively, you can also combine the two data sources in Google Big Query.