Right from developing mobile apps that provide great user experience, till generating more traffic and revenue, Readwhere MCMS has got it all covered. 
India.com offers news content from various categories like entertainment, news, sports and more since 2011. It is one of the fastest-growing news companies in India. India.com chose Readwhere MCMS to create a loyal customer base in the mobile news consumption world. 
Readwhere MCMS has developed the India.com app with the motto of focusing on attracting users with easily customizable and rich content. The app offers efficient features for the publishers as well as end-users. With the smart work done for the India.com app, the latest set of features will provide more user interaction and engagement. 
Let us take a look at the major feature updates done for the India.com app.
Updates and Enhancements: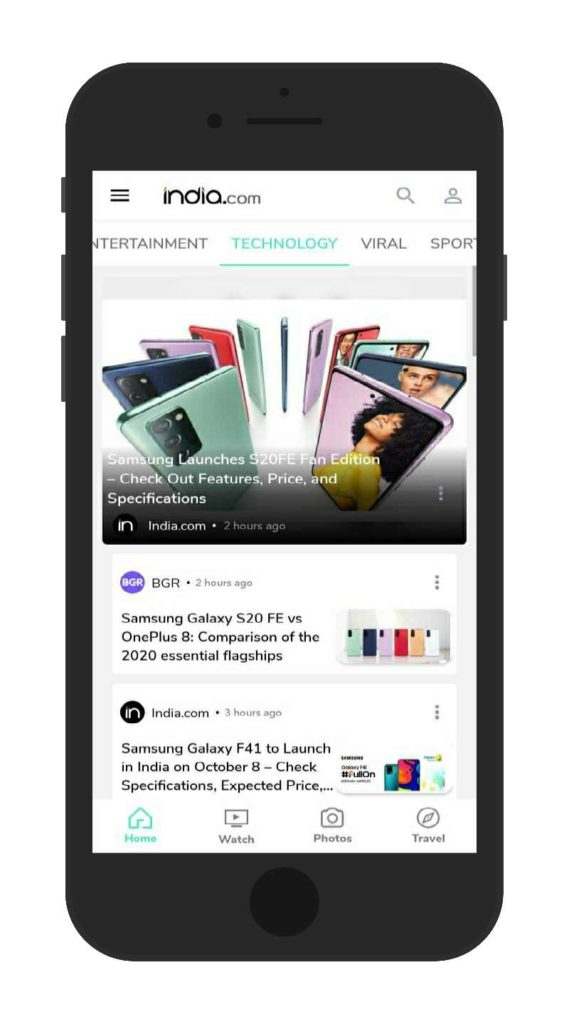 Multiple Sources & More Variety with Aggregation feature: News updates coming from a single source is not enough in today's era. Over time, it can be a dwindling demand. Moreover, India.com network of websites includes various sources like zeenews.com, dnaindia.com , Bollywoodlife.com and others. Readwhere MCMS  developed the aggregation feature for India.com. Along with this feature, India.com app serves as a hub of news from various sources and reaches out users with various preferences. This aggregated content is displayed to the users under various sections and categories. Rather than having a different platform for each news source, the feature works as an 'All in One package'.
Pick the content of your choice with 'Turn On/Off Sources': Not all the users like to consume content from every news source available. News is always a blend of a plethora of stories right from informational till toxic. With the Readwhere MCMS, vital customization is provided that allows the India.com app users to turn on and off any particular news source. This feature benefits the user as they can filter the news sources according to their preference. It easily allows the users to stay away from the unwanted news updates, thus helping in user retention.
Enjoy the Live TV experience with multiple channels streaming- Multi Live TV: Offering multiple sources for content consumption is one way of converting the potential users into loyal ones. In a country like India where vernacular content is the king, pleasing the readers with the content of their choice is the utmost priority. With the Multi Live TV feature, citizens throughout the nation with different interests and language choices can enjoy live streaming. India.com app provides the best live TV experience to business lovers, news readers, entertainment content consumers and many more.
Easy and time-saving Sign In/ Sign Out options available/ SSO (Sign In/ Sign Out): Many times a user might leave the app before signing in. Not everyone wishes to fill up the registration form with multiple fields mentioned in it. Rather than losing a customer before he/ she explores the app, it is a good practice to provide multiple options to sign in and sign out. Users who install the India.com app enjoy the convenience of easy sign in & sign out with their social logins. Users can now save their time using the email id, mobile number, Google and Facebook login to sign in and sign out of the application. 
Get a localized experience with your language preference- Localization: Just like the newspapers, a huge chunk of digital news consumers enjoy reading the news updates in Hindi. Most of them may or may not be familiar with English. India.com offers a localized experience to such users by simply updating their language preference to English or Hindi. Not only the news feed but the overall content including the sections, options, buttons etc will be available in the chosen language. The app users can avail a more customized and localized experience with this feature.
Customize your feed section with 'My News': Several users these days focus on a particular news category rather than anything and everything from the news world. For example, someone may be interested in sports and business but not politics. The My News feature provides the option to pick news categories according to the user's interest. This facility provided right at the initial stage once the app is installed gives a personalized experience to the app users while consuming news.
Multiple Home screens: Readwhere MCMS is altering the way publishers showcase the content to their users. The Multiple Home screen feature allows the publishers to create multiple home screens (up to 3 home screens). Targeting a specific audience becomes easy with multiple home screens that allows multiple categories and design layouts. India.com displays segregated photos, videos and any of the categories into a complete home screen. This feature works as a benefit for selective content consumers as it provides easy bifurcation and keeps them engaged with variant design layouts under any section.
Is your news site not mobile-ready yet? Are you worried that you are already losing potential mobile customers?
Don't worry, Readwhere Mobile CMS has got everything that your full-fledged mobile app should include.
Get in touch with us and get your app developed by the industry experts.